Aerosense will exhibit at the 5th Construction and Surveying Productivity Improvement Exhibition (CSPI-EXPO 2023) to be held at Makuhari Messe from Sunday (Wednesday) to 26th (Friday). (Aerosense booth location: Makuhari Messe Exhibition Hall 3 I-64)

At this exhibition, Aerosense will exhibit an aircraft equipped with a laser scanner in their main product VTOL (Vertical Take-off and Landing Fixed Wing) type drone "Aero Bowing". While laser surveying by multi-copter type drones is widely used, fixed-wing drones enable laser surveying over a wide area. In particular, the company will introduce the features that can be used for large-scale surveys such as forest management and public works because they can also acquire topographic information.

In addition, the cloud analysis service "Aerobo Cloud" is compatible with major RTK (real-time kinematic method) and PPK (post-processed kinematic method) positioning drones, and is equipped with a GPS receiver. " and PPK positioning, Aerosense will introduce the features that make it possible to easily perform highly accurate surveying by photo analysis.
[Exhibition example]
Aerobowing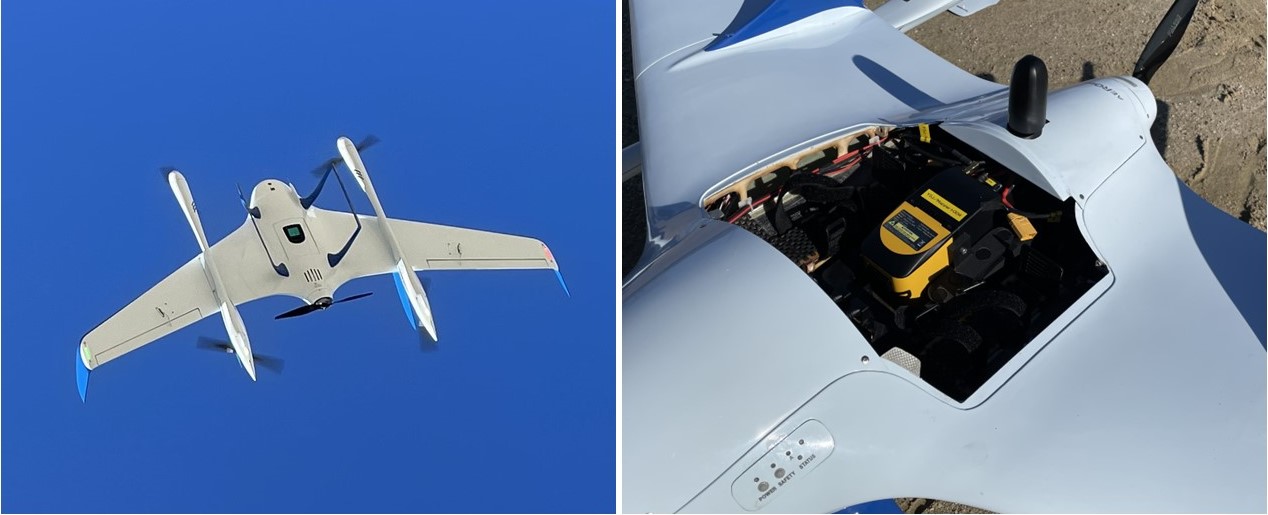 VTOL (vertical take-off and landing fixed wing) type drones can take off and land vertically while hovering like a rotary wing aircraft, can fly horizontally as a fixed wing aircraft in the sky, and can fly long distances without using a runway. (up to 50km) flight is possible. In this exhibition, Aerosense will introduce a configuration that enables topographic measurement under vegetation, which was not possible with conventional photogrammetry, by installing a YellowScan laser scanner.
aerobo cloud

Aero Robo Cloud is a cloud-based application that manages, processes, and analyzes drone-related data and captured images. It can be used only with a web browser, and is characterized by realizing high-speed image analysis processing and high-precision survey processing on the cloud without depending on the specifications of the PC. At this exhibition, Aerosense will introduce the features that can be analyzed from positioning and image data acquired by major RTK and PPK positioning drones.


aero robot marker

Aerobo Marker is an anti-aircraft sign that can measure the position of the marker (GNSS static positioning method) while taking aerial shots. As an anti-aircraft beacon for drones equipped with a GPS function, it can be used for public surveying as it is a surveying instrument that has acquired the 2nd class GNSS surveying instrument registration and computer program certification.


[Overview of CSPI-EXPO 2023]
| | |
| --- | --- |
| Exhibition name | 5th Construction and Surveying Productivity Improvement Expo (CSPI-EXPO 2023)- Bringing together cutting-edge technologies for the next generation – |
| Exhibition period | Wednesday, May 24, 2023-Friday, May 26, 2023 10:00-17:00 (last day until 16:00) |
| venue | Makuhari Messe |
| Organizer | Construction and Surveying Productivity Improvement Exhibition Executive Committee |
| Sponsorship (tentative) | Digital Agency, Ministry of Economy, Trade and Industry, Ministry of Land, Infrastructure, Transport and Tourism, Ministry of the Environment |
For registration visit https://www.evt-entry.com/cspi2023/