ComNav Technology released its new product – T20 Palm RTK GNSS Receiver. After N2, it's another palm GNSS receiver with advanced technology designed for surveying and mapping, GIS, marine, precision agriculture, and machine control. So what are the great things about T20?
Lightweight body with full function
T20 is as light as 0.68kg and thin as 48mm, but ComNav's engineers have pared weight and size but not features. Integrates functions such as GNSS module, datalink module, 4G, 5.0 Dual-mode Bluetooth, data memory system etc. into one receiver, you can enjoy the all functions on your palm.
Stable and strong performance
Powered by SinoGNSS K8 high precision module, the T20 Palm RTK GNSS Receiver is capable of 1590 channels of tracking all running and planned constellations, including GPS, BDS, GLONASS, Galileo, QZSS and SBAS. Moreover, the anti-interference algorithm enables the T20 to maintain accurate positioning and perform well in complex environments such as buildings and dense forests, providing surveyors with high quality measurements.
Durable to meet the surveyor's use
The T20 Palm RTK GNSS Receiver has been designed with surveyors' operational scenarios in mind, featuring a rugged housing and a durable power system. To meet surveyors' needs for long hours, the T20 is equipped with a 10,000mAh intelligent lithium-ion battery. It is also designed with low power consumption, resulting in working hours of up to 12 hours. In addition, a five-hour charge will allow the battery to be fully charged with QC2.0, making it more convenient for surveyors.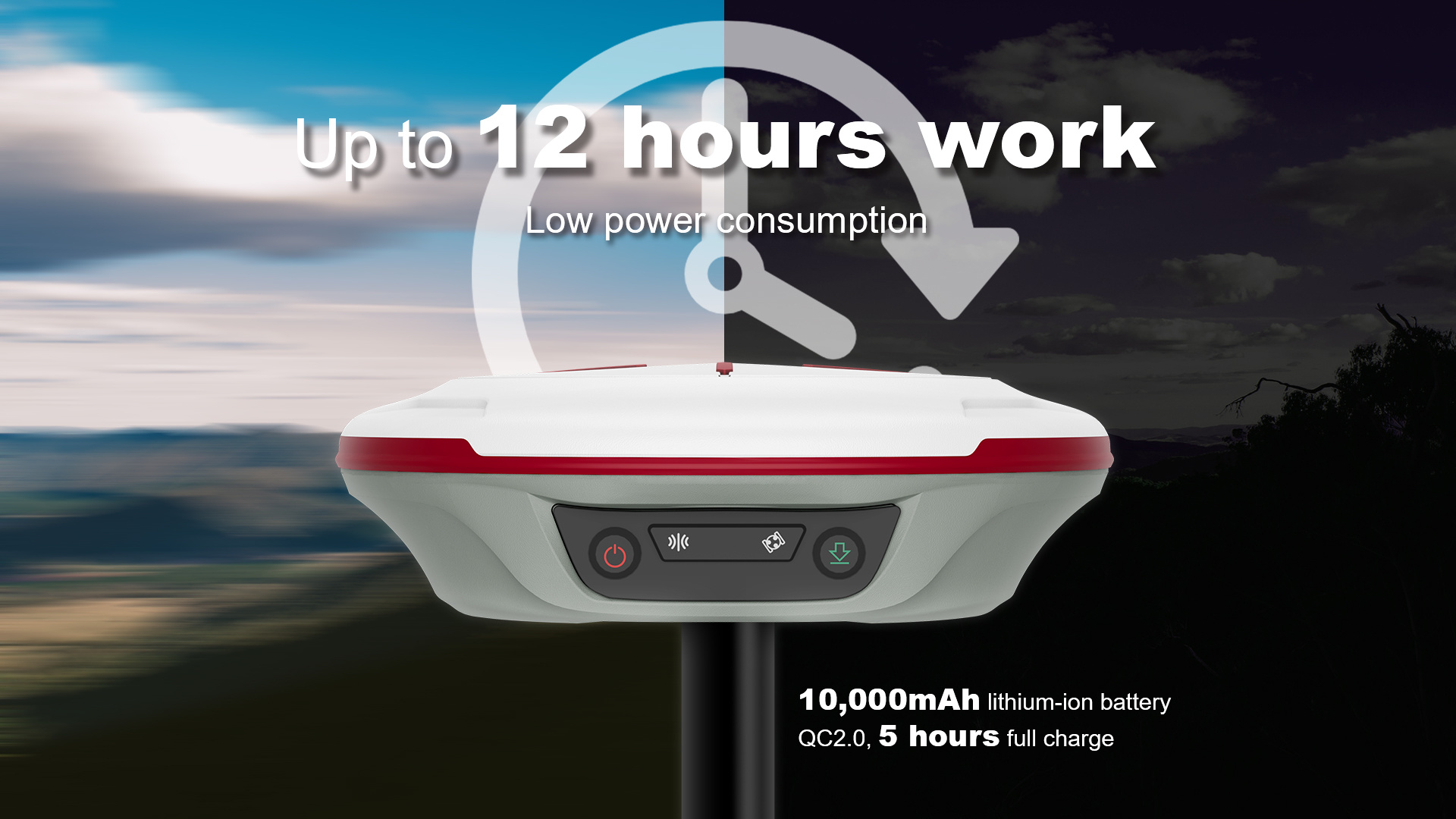 Making the surveyor's work more easily
The T20 is equipped with ComNav's 3rd-generation IMU, which can be tilted and measured at an angle up to 60°, and the accuracy of the measurement data is also guaranteed. The T20 is also equipped with U50 datalink module, which enables it to switch between base and rover. It is also compatible with mainstream RTK receivers on the market, making surveyors' work easier and more efficient.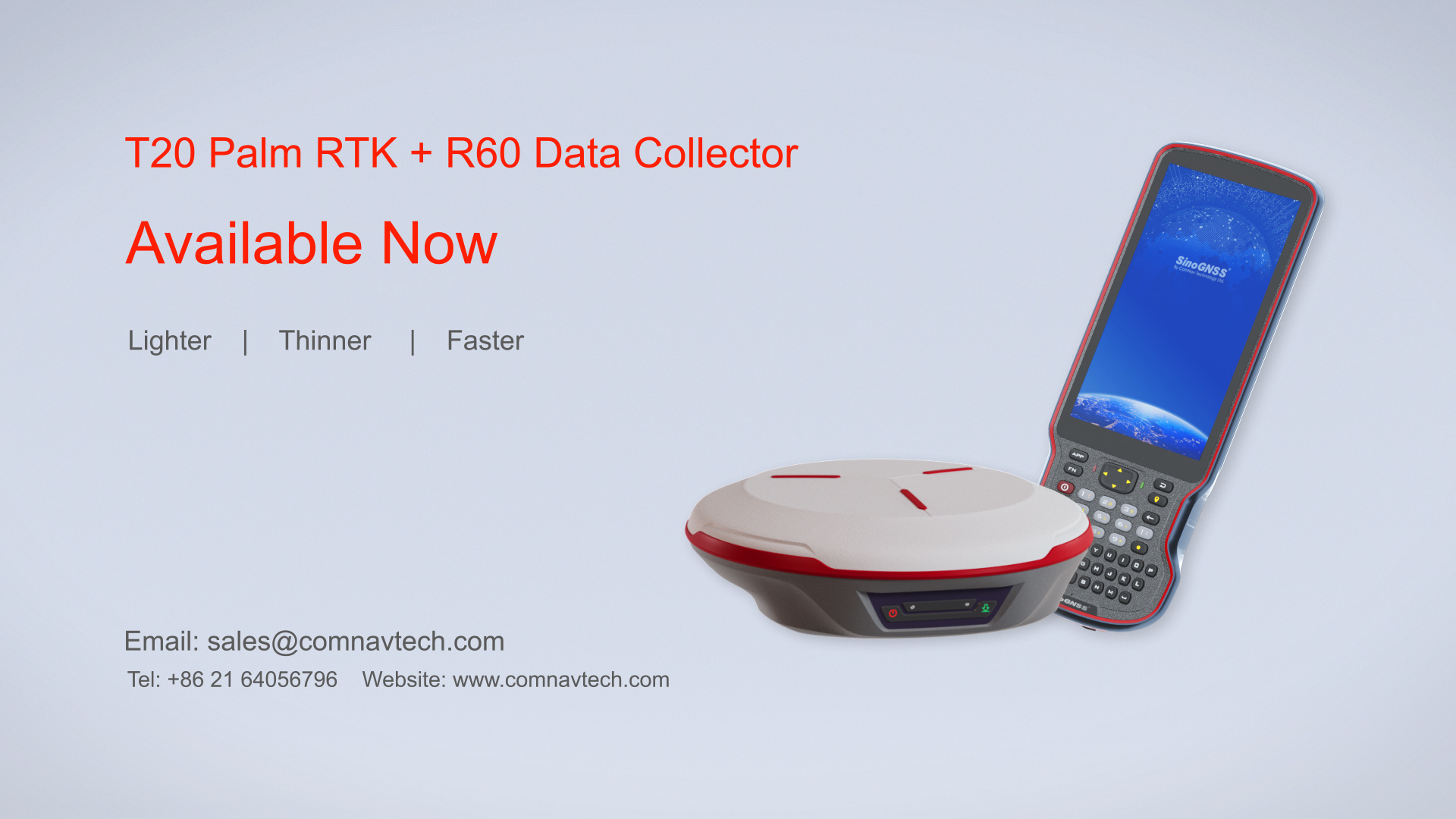 When it comes to the data collector, we recommend the R60 data collector for the T20. The R60's patented design is ergonomically operated and features a large 5.5-inch screen with 1080p HD display that allows surveyors to see the screen in sunlight. With the R60, you can quickly connect to the T20 Palm RTK using NFC. The R60 has a 9,000mah high-capacity battery that can run for 30+ hours and get a full charge in half an hour with QC3.0.
With its compact appearance, comprehensive functions, powerful performance, ease of use, the T20 Palm RTK is an ideal tool for surveyors. The T20 Palm GNSS Receiver now is available through ComNav Technology authorized local distributors or ComNav Technology directly.
Learn more about T20 Palm RTK GNSS Receiver: