Exhibiting the first domestically drone equipped with LTE communication function & multi-site distribution solution
Aerosense Co., Ltd. will be at the Tokyo Big Sight Aomi Exhibition Hall from November 24th (Wednesday) to 26th (Friday), 2021 and will exhibit at the "7th International Drone Exhibition " under the theme of "Connecting to the Far Sky" (Booth No. D-009).
This exhibition will be the first domestic drone equipped with LTE communication function, with a view to operation in non-visual flight (level 4) in manned areas, and a combination of LTE communication and cloud. Aerosense will also exhibit the real-time multi-site simultaneous video transmission system and Aerobo Media Live solution [2].
In addition, the company will exhibit a wired drone 4K video transmission system and a dedicated optical composite cable automatic winder [3].
[EXHIBITION OUTLINE]
■ [1] JAPAN'S FIRST TWO MODELS OF DRONES EQUIPPED WITH LTE COMMUNICATION FUNCTION
・ Vertical takeoff and landing type fixed wing drone: Aerobo Wing (AS-VT01)
・ General-purpose rotary wing drone: Aerobo (Aerobo, AS-MC03-LTE) <First exhibition>
In conventional drone communication, the communication distance of the operating terminal was limited, but by installing the LTE communication function in the drone, the restriction of communication distance can be released. Therefore, by relaying the LTE communication base station, the drone can be operated in a wider range, and the operator can control the drone from anywhere. Therefore, it is expected to be a means to solve recent social issues such as wide area damage investigation in the event of a disaster, long-distance delivery in depopulated areas, and large-scale ICT construction. LTE communications are also an important factor for non-visual flight (level 4) operations in manned areas.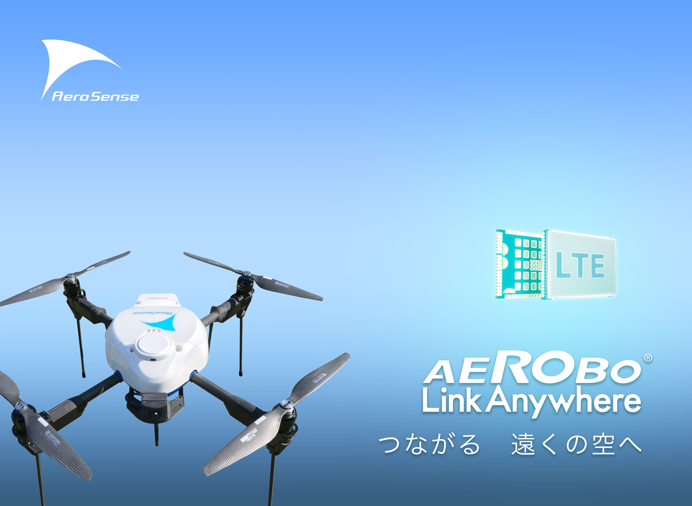 ■ [2] REAL-TIME MULTI-SITE SIMULTANEOUS VIDEO TRANSMISSION SYSTEM THAT COMBINES LTE COMMUNICATION AND CLOUD 
・ Solution of multi-site video distribution system "Aerobo Media Live" <First exhibition>
By combining Aerobo (AS-MC03-LTE) equipped with the LTE communication function of [1] with Aerobo Media Live, the operator can remotely operate the drone and check aerial images in real time at multiple locations.
<Implemented remote control and multi-site distribution experiment of AS-MC03-LTE utilizing Aerobo Media Live>
 From the Aerosense office in Tokyo, we conducted an experiment to remotely control the LTE communication function-equipped drone "Aerobo" (AS-MC03-LTE) located in the experimental field in Ibaraki Prefecture.
The remote-controlled operator received the peripheral monitoring video in real time, set the flight route, and controlled the flight from the Tokyo office. During the flight, the flight was carried out safely while checking the telemetry information such as latitude / longitude and altitude information and the images of the forward and downward cameras mounted on the drone in real time. We also confirmed through experiments that the video can be viewed from multiple locations.

■ [3] WIRED DRONE 4K VIDEO TRANSMISSION SYSTEM WITH OPTICAL COMPOSITE CABLE WINDER SET
・ Wired power supply / video transmission drone system: Aerobo on Air AS-MC03-W2
・ Fully automatic optical composite cable winder for wired drone system: Aerobo Reel AS-IAR01
・ Camera operation dynamics exhibition to check 4K uncompressed low-latency and high-quality images of Aeroboon Air
・ We plan to introduce use cases such as live broadcasting sites using Aerobo On Air and unmanned construction site relays.
Aeroboon Air has the features of long flight, safe and secure flight, and real-time high-quality video transmission because power supply, flight control, and video transmission are performed through a composite cable. Taking advantage of these features, we aim to help solve social issues in a wide range of fields such as broadcasting, security, inspection, construction, and disaster investigation. At the exhibition, we will set up a camera operation experience corner assuming the situation where 4K uncompressed high-quality video is delivered from the sky via a wired cable.
[Wired drone system "Aerobo on Air" (AS-MC03-W2) and dedicated optical composite cable winder "Aerobo reel" (AS-IAR01)]