uAvionix has been investing in the development and certification of a full lineup of Identification Friend or Foe (IFF) solutions for the small, tactical, and attritable Unmanned Aerial Vehicle (UAV) defense platforms. Incorporation of IFF technology into these platforms allows them full participation into the cross-troop, cross-service branch, and cross-nation collaboration and situational awareness that prevents fratricide.
The full product lineup consists of two different micro IFF transponders, a certified GPS, a passive IFF receiver, a tactical display system, and a crypto appliqué emulator which allows for non-classified testing and demonstration. The IFF transponders are in certification testing with the Department of Defense (DoD) Air Traffic Control Radar Beacon System Identification Friend or Foe Program Office (AIMS PO), with the first Mark XIIB certification expected certification in Q1 2021.
Development and certification efforts are the results of internal IR&D funding as well as Small Business Innovative Research (SBIR) sponsorship from the U.S. Army and U.S. Navy in partnership with R Cubed Engineering (R3E) as the prime SBIR contract holder.
uAvionix currently holds 15 FAA TSO and STC certifications with an additional 4 pending approval in the FAA Aircraft Certification Office (ACO).  The combination of this certification credibility and innovation in product capability and low Size, Weight, and Power Consumption (SWaP) propel uAvionix to the leadership role in civil and defense UAV avionics.
"AIMS certified Mode V micro IFF transponders are a game changer for small and attritable remotely piloted aircraft. Without Mode V IFF, our own swarms of small UAVs will cause more confusion and fratricide on our side than the enemy will cause with their UAV fleet. Mode V on small UAVs wasn't possible until now. They are now a "must have" and "can equip" for nearly anything that can fly." Maj Gen, USAF (ret) James Poss, founder of ASSURE – the FAA's Drone Research Center of Excellence.
uAvionix recently published an article in Military Embedded Systems regarding micro IFF systems for tactical UAV use.
RT-2087/ZPX-B
The RT-2087/ZPX-B is the lowest-SWaP offering for tactical UAVs (Groups 2-4).  At only 53-grams, ZPX-B is the smallest and most power-efficient IFF system at an impressive one-third the volume and one-fourth of the power consumption of the competitive micro IFF solution. While transmitting at 54dBm, ZPX-B provides civil transponder Modes A, C, S, and ADS-B Out, as well as military Modes 1,2,3, and 5 levels 1 and 2.  This capability provides the host aircraft with the capability to operate seamlessly on both the battlefield and in National Airspace Systems (NAS). The ZPX-B can leverage the host GPS and pressure altitude data through the control interface, or take inputs from a compatible GPS such as the uAvionix TSO-C145e truFYX and aircraft pitot-static system.
RT-2087/ZPX-C
For larger aircraft in Groups 3-5, the RT-2087/ZPX-C adds to the core capability of ZPX-B by incorporating two antennas for diversity, an additional 3dBm of transmit power, ADS-B IN and Mode 5 IN capability for Detect and Avoid (DAA) functionality, a native Ethernet interface, and native Open Mission Systems (OMS) compatibility. The ZPX-C can also leverage the host GPS and altitude data through the control interface, or be paired with the purpose-built ZPX-G GPS receiver. The ZPX-C satisfies AIMS requirements for manned aircraft as well, and pairs with the AV-30M tactical control head and traffic display for manned applications.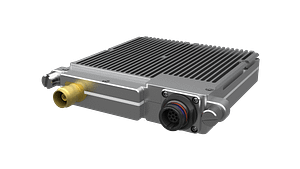 ZPX-R Mode 5/ADS-B Receiver
For receive-only applications, the ZPX-R provides a passive Mode 5 and ADS-B receiver capability for airborne, ground, or ship-based DAA and situational awareness. The networkable, Power-over-Ethernet (PoE) receiver is small enough for portable and onboard applications, and robust enough for permanent installation for persistent surveillance.
ZPX-G GPS Receiver
The ZPX-G GPS receiver is developed from the uAvionix TSO-C145e truFYX baseline and is designed specifically to pair with the RT-2087/ZPX-C and the ZPX-R receiver. The ZPX-G position source provides fault detection and exclusion (FDE) for robust defense against satellite position errors.
ZPX-SK KIV Emulator
The Mode 5 Crypto Emulator provides customers of the uAvionix RT-2087/ZPX line of nanoIFF Mode 5 transponders with the capability to perform ground and airborne Mode 5 functional flight testing and verification when crypto appliqué keys are not available or desired – streamlining testing and field operations.
AV-30M Tactical Control Head and Traffic Display
The AV-30M is derived from the uAvionix FAA STC'd AV-30-C EFIS and provides the military mode control head functionality for the RT-2087/ZPX-C for manned applications, while also adding a traffic situational awareness display of ADS-B and Mode 5 traffic. The AV-30M will be available in Q3 2021.
With the launch of the micro IFF product line, uAvionix builds upon its FAA-certified, low-SWaP avionics products for unmanned and manned aircraft. 
For more information on the uAvionix line of defense products, including IFF transponders, receivers, GPS, and crypto emulators, visit: www.uavionix.com.