ROBOZ exhibit a prototype of Aerosense's industrial drone "Aero Bowing" from March 7, 2022 at the only drone museum in Japan "Drone Museum & Park Mino" (Mino City, Gifu Prefecture). This is the first exhibition of domestic drones at this museum. In addition, to commemorate the exhibition, a demonstration flight event for corporations of "Aero Bowing", which was put into practical use based on this prototype, will be held in Mino City, Gifu Prefecture on March 17th and 18th of the same year.
The two initiatives of this exhibition and demo flight are to convey more about ROBOZ's desire to make drones widely known to the general public and the possibility that ICT-based drone work can contribute to various industries. The thoughts of Aerosense overlapped, and it was implemented and would like to provide an opportunity to think about the future of Japan brought about by drones.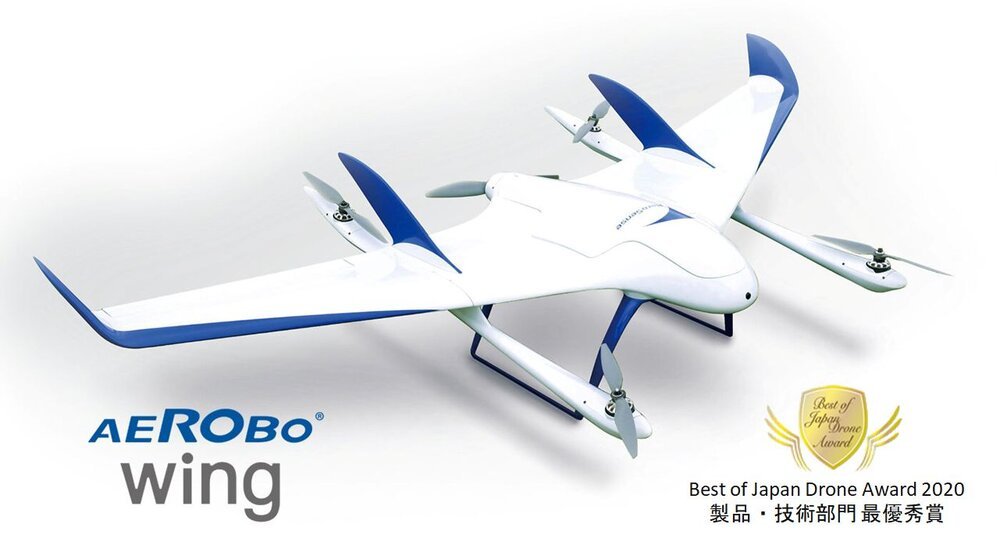 [OUTLINE OF THE EXHIBITION]
At this museum, company will exhibit a prototype aircraft that is the origin of "Aero Bowing", a domestic vertical take-off and landing fixed-wing drone (VTOL). Aerosense announced this prototype machine when it was founded in 2015 and has been developing it.
"Aero Bowing" has the features of high-speed and long-distance flight with a maximum speed of 100 km / h and a maximum cruising range of 50 km, and is suitable for on-site work in various fields such as construction, inspection, disaster response, logistics, and agriculture. It improves productivity and safety through automation, digitization, remote control, etc. In particular, this camera is suitable for applications that require wide-range shooting and long-distance travel in a single flight, taking advantage of its features. Even when developing a prototype aircraft, we have succeeded in transporting goods in the future and in flight experiments assuming a wide range of surveys and inspections. We hope that you will feel the progress of drone development through this exhibition.
In addition, Aerosense consistently develops, designs, manufactures, and sells drones in Japan. This is the first time that a domestic drone has been exhibited at this museum.
[OVERVIEW OF DEMO FLIGHT MEETING]
At the demo flight event, the "Aero Bowing" that has been put into practical use as VTOL will fly. You can see the aircraft taking off and landing vertically without using the runway and flying at high speed horizontally.
<Exhibit>
・ Date: Starts at 10:00 on March 7, 2022 (according to the business hours of "Drone Museum & Park Mino")
・ Venue: Drone Museum & Park Mino (For details, see [Overview of Drone Museum] <Museum Details Please check>.)
<About the demo flight>
・ Date and time: Starts at 13:00 on March 17, 2022 and 13:00 on March 18 (same content on both days)
・ Venue: Mino City Athletic Park Athletics Stadium (Sodai, Mino City)
・ Target: For corporations
・ Application: Please apply to ROBOZ ( advance reception system at "Drone Museum & Park Mino" HP ).
* It may be canceled depending on the weather on the day. In that case, it will be posted on the "Drone Museum & Park Mino" website by the end of March 15 .
[OVERVIEW OF DRONE MUSEUM]
"Drone Museum & Park Mino" is the only existing drone museum in Japan that exhibits more than 100 units, from palm-sized 20g drones to industrial drones weighing 10kg or more, and is about 5,000 square meters outdoors and about 500 indoors. It has an airfield dedicated to air, land and water drones of about 1,000 square meters underwater, and you can also see and experience the drone demonstration.
Viewing is free, and applicants can take a paid drone experience class or a full-scale drone school. There is also a drone shop "ROBOZ SS" that sells more than 500 drones and related parts, so you can buy a drone and enjoy it as it is.
It is also possible to learn about drones, including an all-weather indoor playground where you can experience drones, three large and small training rooms that can accommodate up to 100 people, and a drone production workshop.
<Museum details>
 Store name: Drone Museum & Park Mino
 location: 117-14 Sodai, Mino City, Gifu Prefecture (5 minutes by car from "Umeyama" station on the Nagaragawa Railway)
 TEL: 0575-38-9025
 Business hours: Every Monday, Friday, Saturday, Sunday, and holidays From 10 am to 4 pm
 Regular holiday: Tuesday, Wednesday, Thursday
 URL: https://roboz.co.jp
[ROBOZ OVERVIEW]
ROBOZ is a comprehensive drone company that has been conducting a wide range of drone sales, aerial photography, pesticide spraying, disaster relief, bird and beast damage countermeasures, ICT education using drones, etc. since October 2017, centered on the drone operator training school.